Always dreaming of having thicker and curvy eyebrows ? Some of us are gifted with thicker and dense eyebrows while some of us still struggle to get the beautiful arches. Well shaped and thicker eyebrows give a well defined look to your face. Some of us even believe that thicker eyebrows give the younger look to your face. The sure shot and guaranteed way to get thicker eyebrows is to get the cosmetic surgery done which most of the celebrities do. But i am sure we can not afford those expensive surgeries. But we can definitely approach to mother nature to get the beautiful eyebrows. There are few natural ingredients which you can incorporate in your daily routine to get thicker and beautiful eyebrows.
Easy Home Remedies To Get Thicker And Beautiful Eyebrows:
1. Nourish It With Castor Oil
Most of the people swear by this remedy. Castor oil contains essential nutrients and minerals which would help you to nourish the hair fibers and promote the growth in natural way.It would help you to get thicker and denser eyebrows in long run. Just dip a cotton bud in castor oil and apply it on the eyebrow. Massage it for few minutes and let it work over night. You can apply castor oil every night.
2. Fenugreek Seed Pack
We all love the fenugreek mask for our hair. Most of us use it to get healthy and stronger hair. Similarly you can use these fenugreek seeds to get thicker eyebrows as well. Apply a thick paste of soaked fenugreek seeds on your eyebrows and let it sit over night. Wash off this pack in the morning. You can also add a drop of almond oil in the pack. This pack would result into thicker eyebrows with twice a week application.
3. Rejuvenating Fresh Aloe Vera Gel
This is our most favorite ingredient in skin care and hair care remedies. Aloe Vera is known to nourish the hair follicles and promote the growth. Daily massage for few minutes with fresh aloe vera gel would help you to get thicker and beautiful eyebrows in no time.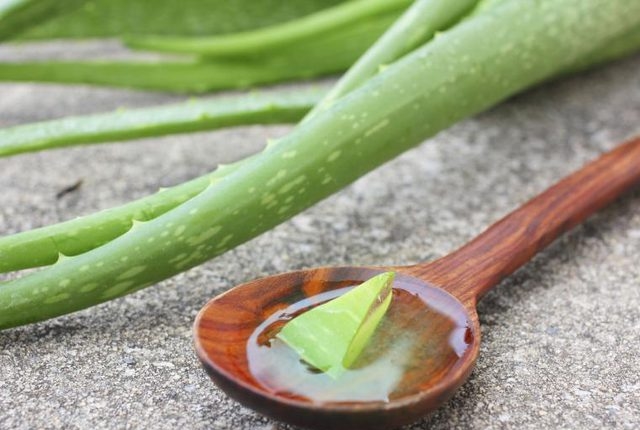 4. Tangy Lemon For Thicker Arches
The vitamin c content of lemon is very essential to accelerate the hair growth. No wonder we use it in most of our hair masks. Similarly you can use on your eyebrows also to thicken it. Cut the lemon into slices and rub the slice carefully on eyebrows for a minute. Rinse it off after 10 minute. Daily application of lemon juice would help to get beautiful and thicker eyebrows.
5. Onion Juice For Eyebrow Growth
Sulfur is known as one of the essential minerals which helps to build the hair fiber. Onion is the rich source of sulfur Hence it is used in various hair remedies to promote the hair growth. Even for the eyebrows. Apply a fresh onion juice on your eyebrows daily for 5 minutes to see the visible results.
6. Egg Protein Pack
Like sulfur protein is also very important for hair fiber. We can infuse these proteins into our hair through egg mask. Whisk an egg yolk and apply on the eyebrows with cotton ball. Wait for 20 minutes and rinse off with warm water. Do this twice a week to get thicker eyebrows in no time.
7. Coconut Milk Massage
Coconut is the rich source of essential vitamins, mineral and nutrients which required for healthy hair growth. You can massage fresh coconut milk on the eyebrows for few minutes and wash off later with warm water. Daily application of this would help to accelerate the hair growth and get you the thicker eyebrows.
Caution: Please use Home Remedies after Proper Research and Guidance. You accept that you are following any advice at your own risk and will properly research or consult healthcare professional.